Keto diet
The best health benefits of turmeric
During my several years of Ayurvedic training in the early 1990s, I discovered turmeric. We learned about the health benefits of turmeric, its amazing healing properties, and all the things turmeric is good for. Read on to learn more about the incredible powers of turmeric.
What is turmeric?
What is turmeric? This root-like stem or rhizome belongs to the ginger family. Commonly grown in India, it turns into a bright yellow spice that stains your countertops and is used in curry.
Turmeric Health Benefits
I am often asked if turmeric is good for you. Yes, turmeric helps improve the functioning of so many systems in the body, including everything from digestion to cognitive function and much more. Here are just a few of the benefits of turmeric:
Improves digestion
Improves brain function
Regulates hormones
Relieves joint pain
Prevents cancer
Anti-aging for the skin
Benefits of Turmeric Pills
If you are wondering about the benefits of turmeric pills, I am here to help. Studies show that turmeric's antioxidant properties do far more than I mention in the list above. It also has the potential to prevent heart disease, Alzheimer's and cancer.
By effectively reducing inflammation, turmeric can also improve symptoms of depression and arthritis. This panacea is one that I don't want to miss, and I take at least one turmeric pill with dinner every night.
What is curcumin?
The turmeric root's most active compound is curcumin, the light yellow substance that has many scientifically proven anti-inflammatory and antioxidant benefits. Turmeric with curcumin is a very strong duo.
Curcumin has many critical functions, one of which is that it is a Nrf2 activator. Nrf2 is a powerful genetic pathway that activates over 200 genes. Many of these genes are related to detoxification and cell repair, which uniquely positions curcumin to aid healing in the body.
Curcumin benefits
Curcumin is not alone in its ability to activate the Nrf2 pathway. Substances that activate Nrf2 include, but are not limited to:
I'm so intrigued by it that I wrote a post on turmeric and the Nrf2 pathway discussing Nrf2 activation and why I prefer standalone supplements like the ones above over proprietary blends like Protandim.
Turmeric Health Benefits
Living with a diagnosis of multiple sclerosis, turmeric is an important tool in my healing arsenal, which includes both alternative and conventional remedies. I've been taking turmeric with curcumin in a supplement called Meriva for over a decade.
Turmeric pronunciation
How do you pronounce turmeric? I always start before I say the word, it's tur· ·wall· ·ick or also· ·More· ·ic? It turns out that this is the correct pronunciation of turmeric The former is really funny because for a long time I thought it was written turmeric and pronounced like that!

Turmeric for dogs and cats
There are tons of turmeric supplements for dogs. I don't have a puppy so I haven't tried one. I'm thinking of getting one for my cat who is quite obese. We don't keep the food out all day and only give her what the vet says, but her weight doesn't decrease. Maybe cat turmeric will help!
Turmeric recipes
There are several ways to include turmeric with curcumin in your routine. My recipes below will help!

Golden turmeric latte
Deep in my intensive Ayurveda training, we learned to diagnose and treat various diseases with herbal remedies, remedies and yoga asanas.
One of the best parts was learning how to use herbs synergistically. Because of Ayurveda, I know how to make medicinal drinks like this incredible low-carb Keto Golden Turmeric Latte, which is essentially a turmeric coffee that contains turmeric and ginger.

Golden Turmeric Bars
My anti-inflammatory turmeric bars are a popular fan favorite! Not only are they delicious, they're good for you too. I can't ask for more of this stunning and healing dessert.

Keto spiced almonds
My curry-flavored almonds are filled with superfood spices like turmeric, coriander, and cumin, which contain nutritious anti-inflammatory compounds.

Turmeric milk
Turmeric with milk, yes please! I created my delicious turmeric root milk for another way of adding turmeric to my diet. This delicious milk is made from just four ingredients, including turmeric with ginger again.


Turmeric tea
If you are wondering what the benefits of turmeric tea are, there are many! This tea contains black pepper, which makes the curcumin in turmeric far more bioavailable. I love using food as medicine and this drink has incredible benefits for me.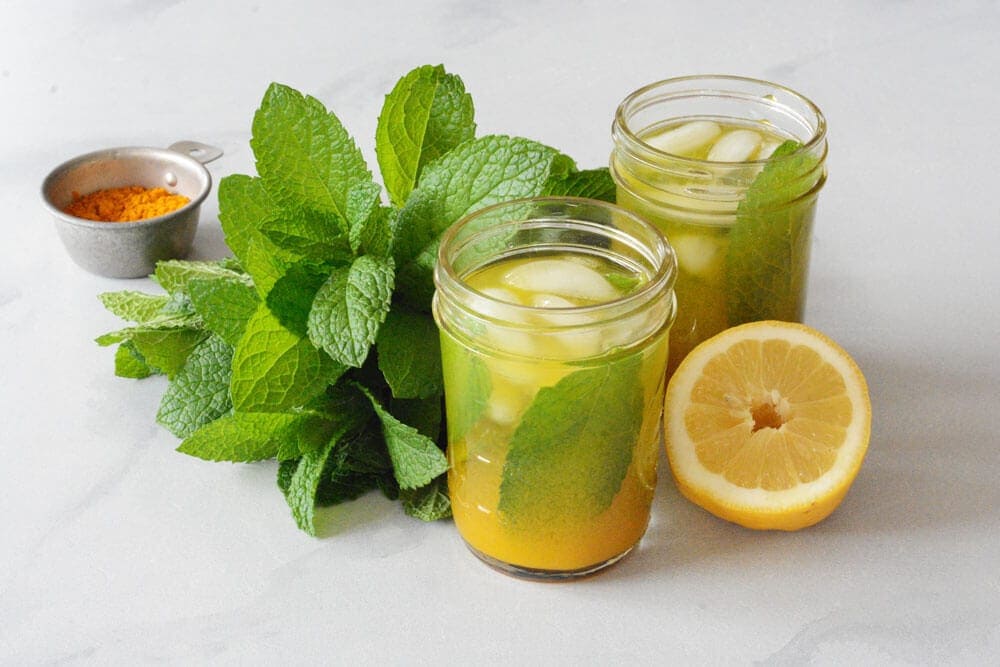 Turmeric lemonade
I'm obsessed with the stunning pop of color my turmeric lemonade brings to my glass. It's almost too pretty to drink. A bonus? When it's hot outside, I can have this healthy sugar-free lemonade every summer day.
Turmeric Chia Pudding
This is a fun recipe that I make on the fly, and you can too. Make my healthy, low-carb chia pudding and add half a teaspoon of turmeric as well as a pinch of ground black pepper.
Turmeric Health Benefits
I love turmeric and in my recipes I combine it with ginger and black pepper, which makes this super spice more bioavailable. You can do that easily too. Let me know if you have any questions about turmeric health benefits such as: B. for use in cooking or on other topics!
Buy my books!