Gut health
Jini is my Windex – makes everything better!
I recently received this email from a reader and just had to share it because it made me laugh!
I wanted to send a personal thank you to Jini. It is long overdue, but I was motivated by the fact that she has been helping me lately and so I have to say thank you.
I was diagnosed with SIBO, treated, then symptoms returned, and then I was diagnosed with inflammatory bowel disease. However, I was fine and coping with the diet (low fodmap). Then 5 years ago I got an infection on the outside of my ear and the doctor prescribed clindomysine antibiotic – and all hell broke loose. I had a five year old child, I was a teacher and I got very sick. I couldn't eat and I lost 15-20 pounds.
The only way to get back was through Jini's Listen to Your Gut Book. I started with the sodium probiotics (which I still order specially) and followed the guidelines in the book. It took over a year (and I also take Lialda for inflammation in the bowel), but without this book and the advice I would have been lost. Sometimes I just read it to relax and know I had a plan. I especially appreciated hard love. Do you want to get well or be sick? You have to make changes if you want to get better!
I've been fine since then. But I've recently started teaching online and have terrible problems with one of my eyes. I wake up at night and the lid is stuck to my eyeball! I went to the doctor and got all kinds of eye drops but nothing worked. So I went to LTYG Shoppe to see if they recommended any drops and I ordered them there. Two days later, my eye is SO MUCH BETTER.
My husband made the joke that Jini is my Windex. Makes everything better!
In any case, this is my long overdue thank you for helping me over the past 5 years. I've given your book to countless friends and I'll tell everyone I meet who has any digestive problems about your book! And now I'm telling you about these eye drops!
Thank you for your lovely email and I'm so happy for you !!
I love your husband's joke – this is great LOL.
And yes, the eye drops are excellent. Did you know about the home remedies section on my website? Everything there is tried and tested, and there is a simple drop-down list so you can easily see everything I have treatments for – from vomiting flu to acne to back pain! It's all free, so a great resource for you and your friends.
All of the natural remedies on this page are tested on me or my family first, then tested on my friends, then by my readers, and finally posted for your benefit – that's what I mean when I say the best. checked!
I also encourage you to take the final step and get off all drugs … my own doctor can guide you.
Or maybe emotional issues are holding you tight – have you tried a free session on my new lazer tapping program? You can choose between:
Learn to feel good about saying "no" and setting healthy boundaries
Strengthen self-confidence, let go of "I'm not ____ enough"
This section of my blog also has some guided meditations and my other favorite mind and body tools. Long term root level healing comes from healing ALL levels of self. We also need to address the emotional and spiritual aspects or messages of our illness.
Thank you again for sharing your wonderful journey – a big hug to you and your husband!
Jini
xoxo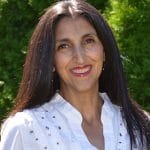 Jini Patel Thompson is an internationally recognized expert in naturopathic treatments for digestive diseases. She healed herself from the widespread Crohn's disease and has been drug and surgery free for over 20 years. Appeared on numerous podcast, television and radio shows in the US, UK, Canada and Australia, Jini gives people hope and visions on how to cure colitis, Crohn's disease, diverticulitis and irritable bowel syndrome (IBS) in all natural methods. Her books on natural digestive disease cures have been sold in over 80 countries around the world.