Gut health
LTYG Shoppe packaging materials – biodegradable or recyclable!
If you are wondering how you can dispose of the packaging material for your last LTYG Shoppe order in an environmentally friendly manner …
We have put together these instructions for use, which will shortly be included in every box we send out:
Note: Some sources say you can put the corn-based packaging peanuts in your sink and dissolve them in water, but we've seen a number of regions where this can wreak havoc on the plumbing or sewer system, so we don't recommend it.
EVERYTHING in your LTYG Shoppe box (including the box itself) is either recyclable or biodegradable!
Pack peanuts: The packaging peanuts we use are made from corn starch and are biodegradable and compostable. They dissolve in water and are non-toxic, so you can dispose of them in a compost heap or in your trash can.
Ice pack: The ice packs we use are made of non-toxic materials and are biodegradable, but not compostable. The packaging will begin to degrade within 18 months if left outside or taken to a landfill (normal garbage). You can also recycle them through the normal poly-recycling process if the non-toxic gel inside is first poured in the trash or the sink.
Boxes, insulators, brown envelopes: All of these are made from standard brown paper, which makes them biodegradable and compostable (YES, you can compost cardboard!). These can also be recycled with all other paper items using the usual method in your area.
PS Don't forget to recycle the instructions for use too! 🙂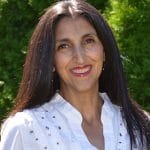 Jini Patel Thompson is an internationally recognized expert in natural digestive disease healing. She healed herself from the widespread Crohn's disease and has been drug and surgery free for over 20 years. Appeared on numerous podcast, television and radio shows in the US, UK, Canada and Australia, Jini gives people hope and visions on how to cure colitis, Crohn's disease, diverticulitis and irritable bowel syndrome (IBS) in all natural methods. Her books on natural digestive disease cures have been sold in over 80 countries around the world.