I recently wrote a blog post, Chaga Medicinal Mushrooms for Crohn's & Colitis, which looked at the health benefits of chaga mushrooms. If you haven't read it yet, I highly recommend it! One of the benefits I highlight is that chaga has been shown to reduce inflammation in the gastrointestinal tract – and that's just ONE of its many benefits.
I take chaga every day now and am absolutely in love with it. Its benefits are immense, so it is definitely worth checking out whether you have Crohn's disease, colitis, or any other form of IBD. It tastes good too!
Because of all of its benefits, I decided to get creative with consuming chaga – that's how I created this "Mucosal Healing" tea. It's a combination of Jini's favorite mucosal remedies and chaga mushrooms to reach all corners of the healing while you sleep!
Why tea before bed?
Here's what happens to our GI system while we sleep:
Your digestive system continues to work even when you are asleep. However, it will slow down a little because if you are passed out, do not eat or drink. During this time, the tissues in this area will also grow, repair, and rebuild themselves. The digestive system uses the glucose used up during the day to stimulate these processes. "Some even claim that the body is better able to absorb nutrients during sleep.
And according to the sleep foundation:
Sleep gives the body and brain time to rest and recuperate, which affects almost every tissue in the body.
Since the body repairs tissue while sleeping, it made perfect sense to drink this "Mucosal Healing" tea, which I invented, shortly before bed as an additional support. This is quite an incredible and powerful nighttime regimen as it helps promote gastrointestinal health, immunity, and reduction in inflammation – all while you sleep, which is the best time to give your body a boost admit!
Nighttime tea has a calming effect for many people as it is warm and calming. Just make sure you choose a tea that doesn't interfere with sleep (like one with caffeine)! The tea I created has no caffeine so don't worry. 🙂
Some additional benefits of tea before bed are:
Promotes dental health – as the tea preparation I make is very rich in anti-inflammatories and antioxidants, it can basically be viewed as a mild antimicrobial agent. These can help keep your teeth healthy and clean.
Stimulates the production of neurotransmitters like dopamine and serotonin. These chemicals can help you feel relaxed, happy, and in a good mood – which can help you fall asleep more easily.
Some research suggests that antioxidants found in tea may help lower cholesterol levels.
My nocturnal "mucous membrane healing" tea recipe:
Note: If you have problems with any of the ingredients in MucosaCalm, it has helped me to take the ingredients that I could tolerate separately in my tea to build a tolerance. This is what I mean:
After taking Mucosa Calm for a while, I noticed that I was developing diarrhea. After some experimentation, I found that the elm in MucosaCalm bothered me, but when I took the marshmallow root and licorice root together I had ZERO problems. So, at the beginning, when I couldn't stand the MucosaCalm, I just bought all the other ingredients in MucosaCalm separately and took them that way.
I've also found this tea to be very comforting after a bad meal or during a "flare-up" as it can relax your GI and give it all the nutrients and antioxidants it needs. It can also help the body metabolize rich foods and banish gas.
If you are still not convinced of this tea, here are 4 reasons why you should try this tea:
# 1) Chaga mushroom
Chaga is full of vitamins, minerals, and nutrients that help promote gastrointestinal health, increase immunity, and reduce inflammation.
My interest in chaga really peaked when my doctor mentioned its benefits for ulcerative colitis during one of my office visits. He explained that new research has shown that chaga can help induce remission in patients with ulcerative colitis and help heal other IBD conditions!
# 2) Licorice root
Licorice adds a pleasantly sweet taste to any tea it's added to, making it the perfect after-dinner tea if you're looking for something that will soothe your stomach and please your sweet tooth. Licorice has been shown to help relieve the symptoms of digestive problems and promote good digestion. However, be careful, since even hard liquorice has a variety of health benefits, it is recommended to consume it in moderation to avoid side effects.
# 3) Marshmallow root
Marshmallow is known to help with digestive issues like heartburn / GERD, constipation, and many others. According to Healthline:
Research from 2011 found that marshmallow flower extract showed potential benefits in treating gastric ulcers in rats. Anti-ulcer activity was determined after taking the extract for one month. More research is needed to expand on these results.
An in vitro study from 2010 showed that aqueous extracts and polysaccharides from the marshmallow root can be used to treat irritated mucous membranes. Research suggests that the mucus content forms a protective layer of tissue on the lining of the digestive tract. Marshmallow root can also stimulate the cells that aid tissue regeneration.
# 4) Slippery elm
Elm has been used as a healing ointment for centuries. Because it contains mucus, it can envelop and soothe the entire GI system – including your mouth. This coating turns into a smooth gel when mixed with water, so that it can protect against ulcers and excess acid, and because of the antioxidants it contains, it alleviates many "stomach problems".
I hope this tea helps you on your healing path as much as it does me. So go ahead and make yourself this mug but when you get back please let me know … what's your favorite type of tea? 🙂
If you're in need of inspiration, here are Jini's favorite herbal teas.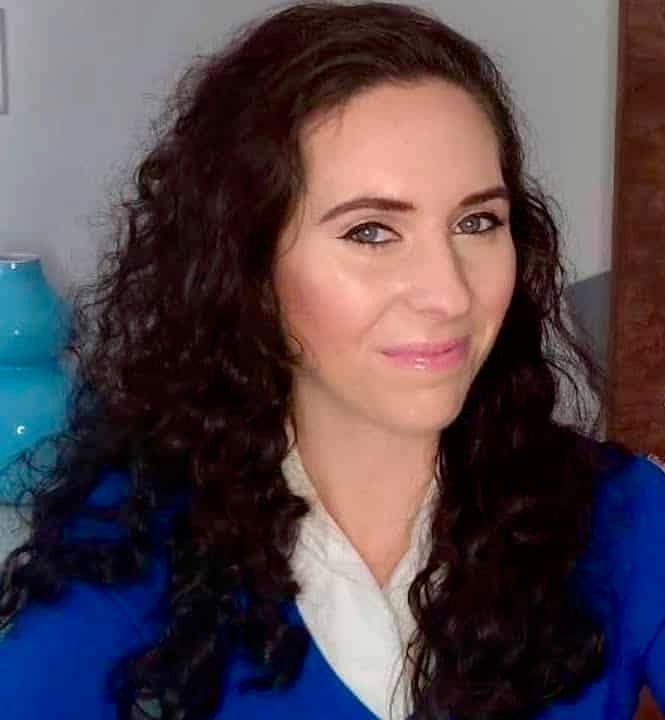 Linsy is Jini's assistant. From a highly sensitive / reactive case of ulcerative colitis to complete freedom from medication and surgery with exclusively natural methods, Linsy understands the interplay of mind / body / soul on the healing path firsthand.