Gut health
Homemade fish broth PLUS risotto recipe!
Hello everybody! Savannah here, and today I want to share a fish broth recipe PLUS a seafood risotto recipe I made with the broth. If you are a seafood lover, or if you find that you can tolerate fish better than beef, chicken, etc., or if you just want more variety in your broths, then this recipe is for YOU.
Why Homemade Broths?
There are so many fantastic health benefits of consuming homemade broths, and if you've read the IBD Remission Diet, you already know that Jini recommends people drink meat and vegetable broths in between Absorb Plus shakes on the diet. Drinking savory broths whets the appetite because if you only consume sweet flavors all the time, you will fill up pretty quickly – and just can't face the thought of another shake!
However, if you switch between sweet and salty tastes, it will be much easier to deplete the number of calories you need from the Absorb Plus elemental diet shakes each day and it will stimulate your appetite.
Fish broth recipe
I've been spending a lot of time in nature lately (BEST free therapy!) And one of my favorite things to do (besides hiking) is fishing. Lately my friend and I have caught tons of trout in our area, and after filleting it, I've decided to save the bones and heads for a future broth.
For the recipe I want to share with you, I used 5 trout (heads and bones), onions, garlic, basil, and some lime thyme that I planted early last year that broke out like crazy! If you are not familiar with lime thyme, unlike traditional thyme, it has a citrus smell and taste that goes wonderfully with soups.
You can use any herbs and omit or reduce onions and / or garlic if you cannot tolerate them. Leaving them out isn't a deal breaker, but these ingredients really add a nice flavor to the broth.
Directions:
Fill a saucepan with filtered or spring water and bring it to a boil
Add sliced ​​onions and garlic (large pieces are fine because you will strain later)
Once the onions are soft and fragrant with garlic, add the fishbones / heads
Add the basil and / or lime thyme
Hold this on a soft simmer for about 20 minutes then lower the heat and simmer for 2-6 hours (I cooked mine for 6)
Stir occasionally and add additional water as needed
Strain the fish, onions, garlic, and herbs so that you only have the broth itself
Enjoy it on its own or as a basis for the recipe of your choice!
I'll say while this is cooking the smell can get a bit overwhelming so I closed the door to my kitchen and opened all the windows while it was cooking. Keep this in mind when planning to make this broth and make sure you have a well-ventilated place to cook!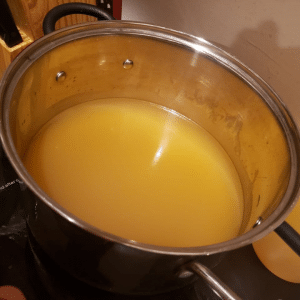 Both are very versatile as you can drink them alone, use them as a soup base, to cook rice or pasta instead of water, etc. Today I am going to introduce you to a seafood risotto made by me to use it.
I'll say risotto is a lot of work. So, if you're not ready to stand and stir for 30-45 minutes, you may not want to start this endeavor.
But if you're a brave soul, this risotto is really satisfying to make – and of course to eat! It is really worth the time and effort as this seafood risotto came out AMAZING.
Seafood risotto recipe
You can use Arborio risotto if you want, but I used an Italian rice called Vialone Nano because it's very hard to overcook! It's Arborio in the way you cook it and very similar in texture so you can use whatever you prefer.
When making risotto, you usually sauté the onion and garlic first. Once soft and translucent, add the risotto (or Vialone nano rice) to the pan and lightly toast for a few minutes. You want to make sure you don't burn them at this point. So make sure the heat is low. The rice will turn out fragrant and once lightly toasted, add white wine and lemon to the pan. Once the risotto (or rice) has absorbed the white wine, slowly add a ladle of hot broth. In this case we will use the fish broth we make! When the risotto soaks up all of the liquid, add another ladle of broth (and so on and so forth) until the risotto is perfectly cooked. It is a process! But oh so enjoyable.
Ingredients:
2 cups Vialone Nano rice (or Arborio risotto)
1-2 tbsp cold-pressed organic olive oil
1 medium onion (I used white)
4-6 cloves of garlic (I LOVE my garlic so I used a little more)
1 1/4 cup white wine (1 cup to steam mussels and 1/4 cup to deglaze the pan)
6 cups fish broth (or homemade broth of your choice)
Tomato paste (can leave out if it's too acidic, but it's not the bright orange color like mine)

I used 4 teaspoons but you can adjust it to your liking – the more you add, the deeper the color will be

Seafood of your choice

I used pieces of trout fillet, pre-cooked and cracked crab (from my local fish market), and clams in the rice
Then at the end I added fried scallops

Lemon juice (is used in conjunction with the wine to deglaze the pan, but can also optionally be squeezed over the finished risotto!)
Some people will also include parmesan cheese, but I didn't include dairy in this recipe
Salt & pepper to taste
Directions:
I started by steaming the clams in white wine and garlic. You don't need a lot of wine for that – I used about a cup, maybe less. Make sure you only use the clams that open during cooking as the clams that stay closed are not good. You can see in this picture that all of my clams have opened so I would say this was a success! =)
When the clams are cooked, set them aside to cool. Be careful as the clams will be hot! Save the juice you used for steaming if you want as you can add it along with your broth for extra flavor. I can only recommend it because it tastes so good.
You can either add the mussels in their shells to your finished dish or peel them and mix them into the risotto like me. I'll get into more on this later, but once you've set the mussels aside, you can move on to making the risotto.
The arborio risotto usually takes a little less time to cook (around 25-30 minutes), but since I used the Vialone nano rice it took a little longer. I would recommend checking your risotto (or rice) after about 18-20 minutes and then adjusting the cooking time as needed.
I also started with around 6 cups of fish broth, but the amount of broth you use can vary. In the end, I used the juices from the steamed mussels as a supplement. If you find that you need a little more broth but run out of stock, hot water will work just fine too. Just make sure the liquid you are using is hot but not boiling.
Risotto directions: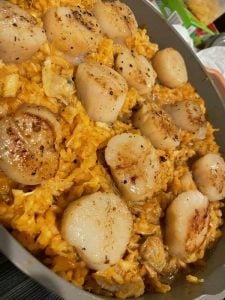 Heat the olive oil in a large pan, then fry the onion and garlic until translucent.
Put your risotto (or Vialone Nano rice) in the pot. You want to roast the rice kernels for about 3-5 minutes, stirring occasionally so that the kernels don't brown.
When the grains become fragrant, deglaze the saucepan with 1/4 cup white wine and a pinch of lemon juice (loosen the stuck rice). You can also use the juice of the steamed mussels in this case, but it's entirely up to you. *
Once the risotto (or rice) has absorbed the liquid, mix the water and tomato paste (if included).
Add this mixture to the risotto and stir until all the liquid is reabsorbed.
Add a ladle of warm fish stock to the risotto and stir continuously.
When the risotto absorbs all of the broth, add another ladle full.
Do this for about 18 to 20 minutes as this slow cooking process, stirring constantly, makes this dish so creamy and delicious!
Make sure you stir the risotto gently to evenly distribute the cooking process and scrape the bottom of the pan to keep the risotto from burning
After about 18-20 minutes, check your risotto. If it's still a little tricky when you bite into it, I would recommend cooking another 5-10 minutes (or longer if needed, just keep checking and use your best judgment).
Slowly add stock until your risotto is tender but still firm when you bite into it. Do not boil over or it will get mushy!
Once your risotto has reached the texture you want, you can stir in the cooked seafood of your choice – this is where I added the leftover trout fillet pieces, cooked crab, and cooked clams. I peeled the mussels completely (removed them from their shells) and stirred into the risotto.
Then I seared a few scallops and then topped the risotto with them.
Fill in another pinch of lemon if you'd like, or a few extra herbs and voila! Seafood risotto with homemade fish broth.
Hope you enjoy this recipe because I promise it is well worth the work! This recipe fed us both leftovers, which of course we could finish without any problems. 😉
This dish is very versatile – remember, if you're not a fish fanatic, you can replace the fish broth with chicken, beef, or vegetables. You can also use cooked chicken, sausage, vegetables, etc. – it's entirely up to your taste!
What do you think of this recipe? Would you give it a try or do you have substitutions in mind?
Let me know in the comments!
* Deglazing a pan is the process of adding liquid, such as broth or wine, to a pan to loosen and dissolve leftover food that has stuck to the bottom after cooking or searing. These cooked leftovers give your sauce or broth an intense flavor.
Did you know already?
"Fish broth cures everything" is a South American proverb referred to by Sally Fallon in her article "Broth is beautiful". Broth and soup made from fish heads and carcasses provide substances that strengthen iodine and thyroid gland!
When the broth is cooled, it will solidify due to the presence of gelatin. This gelatin has a very calming and healing effect on the intestines.
Don't you like fish Here are some of Jini's other broth recipes.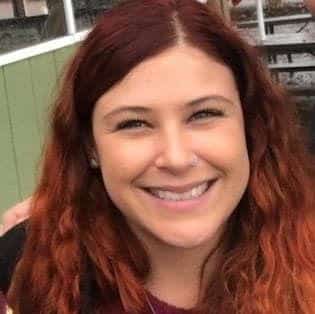 Savannah is Jini's assistant. An avid chef who loves to travel, speaks fluent Spanish and has a special affinity for animals. Savannah is always ready with helpful resources and answers to challenging questions.